Posted by Paul Gover - CarSales.Com.Au on 9th Nov 2019
Ford Mustang Dick Johnson Limited Edition by Herrod Performance breaks cover
Exclusive: 635kW Ford Mustang special revealed
Dick Johnson is rewriting the rules for homegrown Aussie muscle cars with a Ford Mustang that erupts with 635kW of power.
His new hero car is already an instant sellout and the 30 Mustangs are now being fed through the assembly program at Herrod Performance in Melbourne for deliveries through to the early months of 2020.
Even the prototype car has been snapped up and build #17 is allocated to a long-time Johnson family friend.
The hot limited-edition Ford Mustang is the culmination of more than a decade of dreaming by the five-times Australian touring car champion, who pushed the launch button earlier this year after watching Mustangs take this year's Supercars championship by storm.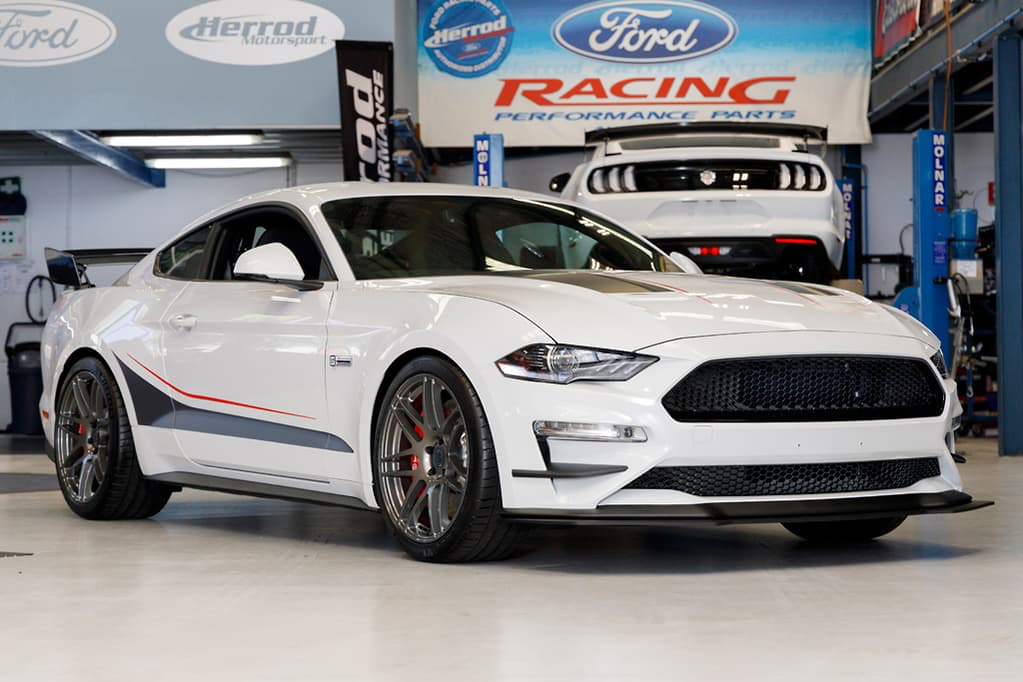 "The Mustang is doing the job on the track and I wanted something that would do the job on the road," Johnson tells carsales.
"It would have been easy to do a body kit and some stickers, maybe bigger brakes and more power, but that's not me. This program was always about hitting the summit.
"I promise that there is no other Mustang on the road quite like this one."
The result is a car called the Dick Johnson Limited Edition by Herrod Performance, and is a continuation of the partnership between fast-Ford expert Rob Herrod and Johnson which was previously reflected in go-faster Falcons for the road.
"Rob has been one of my closest friends for many years. I really admire what he's built and his success as a world-class tuner and engineer."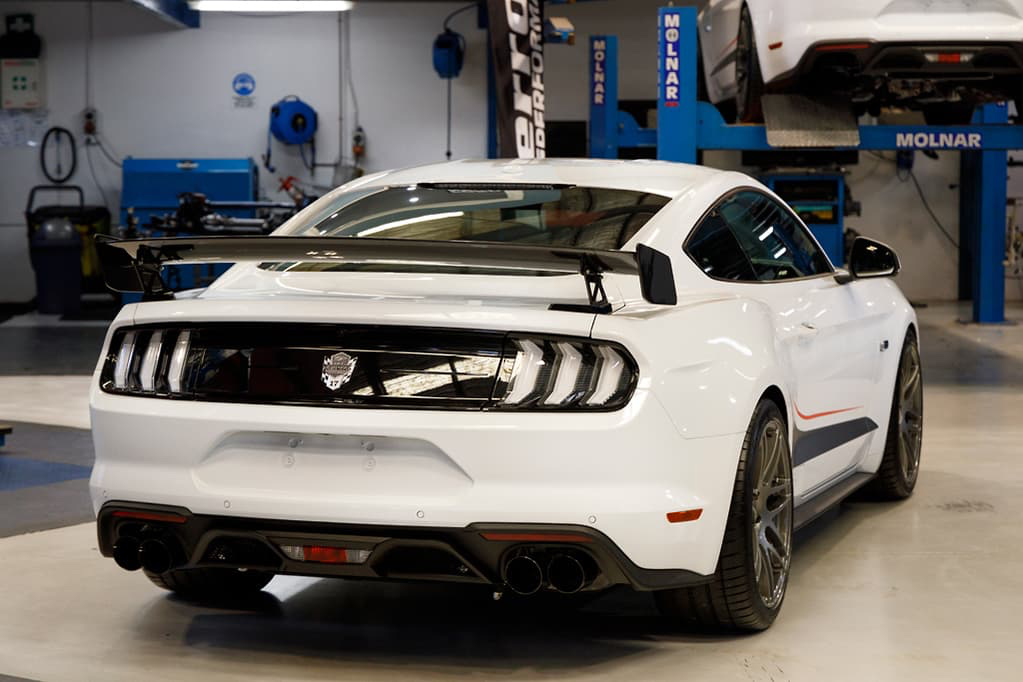 It's no coincidence that Herrod's experience, and his connections at Ford Performance in the USA, have also been tapped by Ford Australia for theR-SPEC version of the Mustangwhich is going into production early next year.
But the Johnson car is much, much more.
"It is a very different beast. It is such a tailored and bespoke car it has seen buyers who perhaps otherwise wouldn't buy a Mustang," Herrod tells carsales.
"It has been produced with the blessing of Ford Australia but it is very much a one-off project for us."
Hundreds of special parts are used to convert the cars, from a high-capacity customised Whipple supercharger and carbon-fibre tail-shaft down to the 'puddle' lamp under the doors which is switched from a picture of a pony to the Dick Johnson logo.
There are 20-inch alloy wheels with 275/35 front and 305/30 rear Michelin Pilot Sport 4S tyres, and special Brembo brakes from the Mustang GT350R with 15.5-inch cross-drilled front rotors with directional and 14.9-inch cross-drilled rear rotors.
Even the service stickers in the engine bay, including a special one for the oil cap, are bespoke items.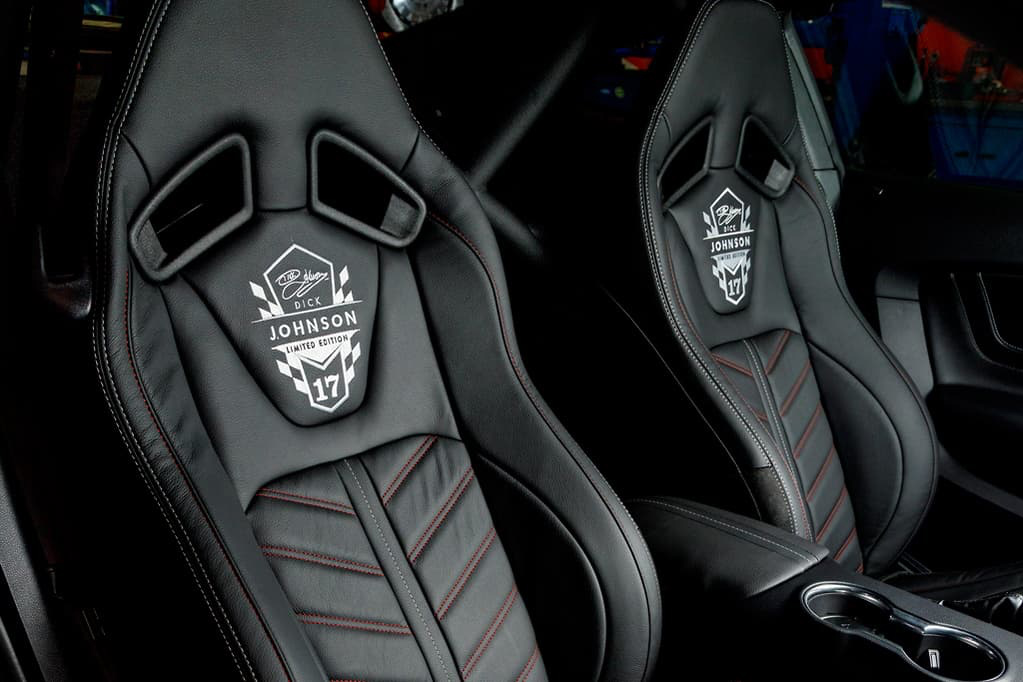 Many parts are also monogrammed with the car's individual build and VIN numbers engraved into the metal, including the pistons and conrods.
Johnson is reluctant to go into detail on the car's exact mechanical specification, beyond confirming the power output.
"From the starting point to now, all we have done is add to the spec sheet. Some of the owners who have been to the Herrod shop in Melbourne and seen the cars and parts up close can't believe the extent of some of the detail. It's incredible," he says.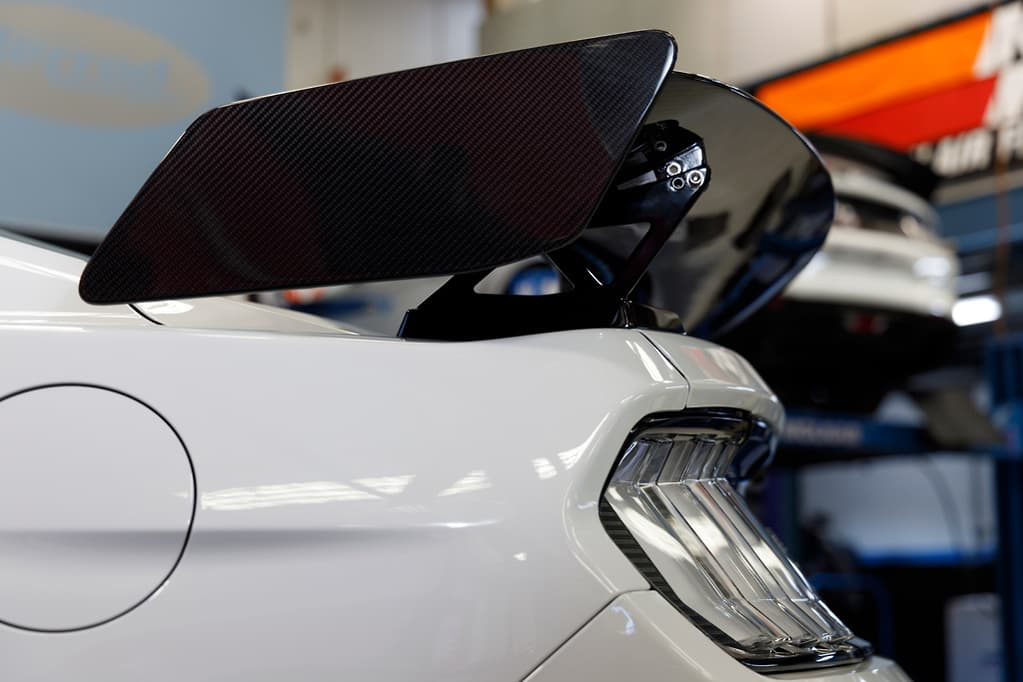 The 30 cars are either black or white, starting life as a Mustang GT with Magneride suspension. There is a mix of manuals and autos.
"The cars have been sourced through dealers that we work with regularly and who are great friends, specifically Tony Blake at Metro Ford and Stuart Lanham from Lanham Ford, who has also been a great supporter," Johnson says.
"The cars are then modified by Herrod separately once the donor car has been registered and pre-delivered. Each car has specific engineering sign off for its state of registration."
The cars have a range of visual and performance upgrades to the bodywork, from front 'flicks' to the carbon-fibre rear wing, with a full-custom leather interior. Some owners are taking their cars with an optional roll-cage, which means removing the rear seats.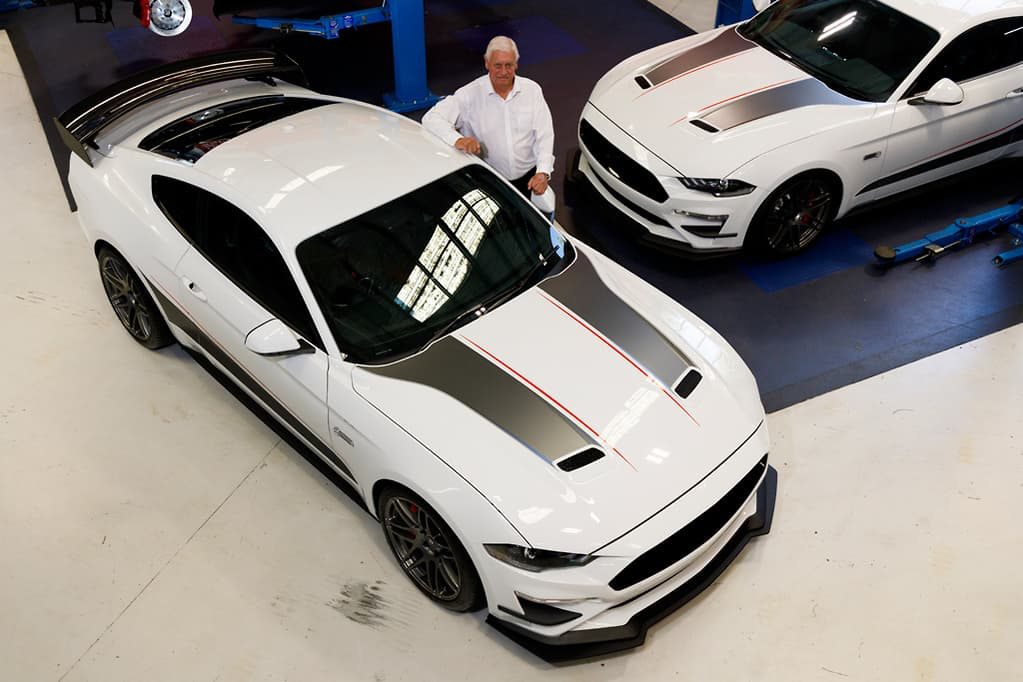 The build for each car takes a minimum of two weeks, with a dedicated crew of six Mustang specialists. With the cars now into production, Johnson is happy to spread the credit for the car.
"This could not have happened without Ryan Story, who put it all together. Rob and Christopher Herrod have done an incredible job on the mechanical and engineering side. Tristan Groves designed all the logos and imagery."
But that's the end of the story, according to Johnson.
"Rob and I talked for many years about a new collaboration, but it took 12 months to actually make it happen. A lot of things had to line up to get it done.
"This is a one-off project. The first and the last. We believe it's the king of the hill for Mustang and we're happy to leave it that way."